DOUGLAS Game of S-K-A-T-E presented by Stalefish Skate and Snow.
June 28st 2008.
Thanks to Monkdeth Skateboards, Powell, Bones, Skate One, Kaos, Thunder and Deluxe Dist.
Thanks to the Douglas Moms(Pam, Suzanne, Jen, Chris, and Jessica) for all of their effort in getting a skatepark park for Douglas
Thanks to the kids who entered the contest!
Thanks again to all!!!! Send in or drop off your photos -we will upload them to this site!!!
Winners -
Overall - the Thunder Trophy Truck Winners
1st Jordan
2nd Nick Maraia
3rd Nick Martins
13 & Under Winners
1st Nick Martins
2nd Adam
3rd Kevin
14-17 Winners
1st Nick Maraia
2nd Brandon
3rd Drew
18+ Winners
1st Jordan
2nd Josh
3rd Mike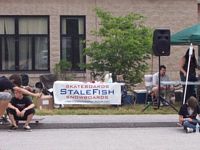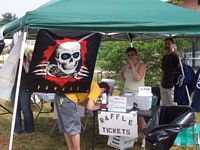 ABOVE PICTURE BY SUZANNE GAGNON
About Monkdeth Skateboards
Monkdeth Skateboards was started in July 2005 with the idea of putting skateboarding back into the hands of skateboarders at the local level. Based in Slatersville RI, Monkdeth Skateboards are sold internationally through their website and have a strong following in Rhode Island, Massachusetts, and New Jersey. For more information, please visit them on their website at www.monkdeth.com.
About Stalefish Skate and Snow
Stalefish was conceived in August 2006 and opened its doors on October 1st 2006 at 645 Great Rd North Smithfield RI. The idea behind Stalefish was to bring a core skateboard and snowboard shop to an area that was void of one for several years. Through this shop the local skateboard and snowboard community can find quality products at reasonable prices as well and support through teams and events. For more information, please visit them on their website at www.stalefishskateandsnow.com